Saint Louis Fashion Week Sends Local Designer to Dallas Market
ALIVE and Saint Louis Fashion Week have been longtime supporters of local designers, and this year, we've upped the ante with a new initiative that will send one STL-based fashion designer to the Dallas Apparel and Accessories Market.
The chance to attend a leading retailer event such as Dallas Market is a significant one for both established and up-and-coming designers, as it provides them the opportunity to gain buyers from across the country, as well as earn the necessary market exposure to take their brands to the next level.
With stakes this high, deciding which local designer to send to market was not a decision that was taken lightly by me and my fellow Saint Louis Fashion Week Advisory Board members–which is why we gathered in the private room at Scape to hear seven local designers' presentations on why they should be the one to show at Dallas Market.
The designers chosen to make presentations included Anna Friss of Blue Bird Apparel, Genevieve Cortinovis of Dipped and Dyed, Paulie Gibson, Laura Kathleen, Amy Johnson of KayOss Designs, Suzanne Lay and Emily Koplar of Wai Ming.
After hearing each designer's unique pitch and viewing samples from their collections, my fellow Board Members and I cast our private votes–sending Emily Koplar of Wai Ming to Dallas Market!
"I am so honored to win this amazing opportunity to take the Wai Ming collection to Dallas Market," Emily says. "This competition was just one of the many innovative ways that ALIVE Magazine and STLFW are working to increase the awareness of St. Louis-based designers outside of the city, as well as foster and promote St. Louis fashion within our own community, and I am incredibly grateful to everyone who has afforded me this opportunity. It was wonderful to meet and reconnect with the amazingly talented local designers through this competition. I continue to be blown away by all of their hard work, determination and distinct design aesthetics, and I'm truly honored to be a part of this talented community."
On behalf of ALIVE and STLFW, I would like to personally thank and congratulate all seven STL designers who participated in this event! Deciding on the winning designer was no easy task—each contender brought something unique and exciting to the table.
Here's a look at some of the designer highlights from the presentations…
Wai Ming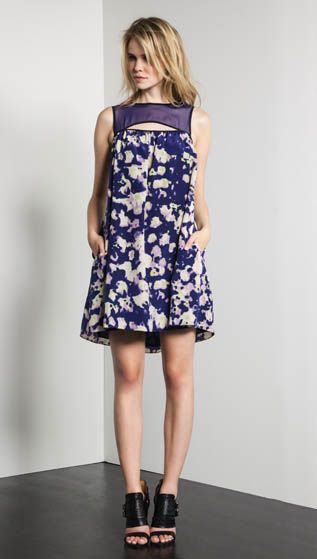 As designer Emily Koplar spoke about the Italian fabrics and other luxurious accoutrements of her collection, we couldn't help but be captivated. The designer has experienced much early success with the launch of Wai Ming, having attended markets in New York and picking up high-end, hard-to-snag boutiques nationally and internationally. We have no doubt she'll do the same when she attends Dallas Market this fall!
Blue Bird Apparel
Designer Anna Friss shared her humbling story about starting a collection with only a few thousand dollars saved. She became her own "road warrior" and packed up her car with samples, driving from city to city to meet boutique owners. Because of her hard work and love for design, she has bootstrapped her way into hundreds of boutiques across the nation.
Dipped and Dyed
The launch story of Genevieve Cortinovis is also a poignant one. After spending time in Cambodia, she realized her true passion and launched Dipped and Dyed, working with artists around the world to create unique, socially-conscious clothing. Together with her artisan partners, she merges traditional production and contemporary design, pushing the boundaries of her craft and creating lasting sources of income for at-risk communities.
Paulie Gibson
It was evident from his presentation that designer Paulie Gibson certainly embodies his brand's motto: "Be who you are and love every minute of it." His bold, contemporary menswear brand has gained significant notoriety in a short period of time. In less than a year, he has shown in Phoenix Fashion Week, LA Fashion Week, Knoxville Fashion Week and Saint Louis Fashion Week. He just recently began full-scale production of his line right here in St. Louis.
Laura Kathleen
Coming off of the buzz of her recent stint on "Project Runway All Stars," it was evident that Laura Kathleen is energized and ready to expand her line into new markets. Having launched a successful jewelry collection, Love Armour, in addition to her clothing line, Laura Kathleen is also contributing to the local arts scene. She recently was featured in the Regional Arts Commission's fashion-meets-art exhibit "DRESSED." Her architecturally-influenced black structured dress was a show-stopper, both at the exhibit and our market presentation.
KayOss Designs
Designer Amy Johnson's passion and zest for life is contagious—and her market presentation was no exception. Explaining that she "woke up one day and just knew she was ready to go to market," Amy sported one of her signature dresses, complete with a hood that transforms into several necklines during the presentation. Her dedication was evident as she discussed her process of choosing and trusting a local producer to recreate her one-of-a-kind garments.
Suzanne Lay
Designer Suzanne Lay's rocker-chic influences were immediately evident in the looks she presented to the STLFW Board. A key influence for her most recent collection is Rihanna's "Shine Bright Like a Diamond," and it definitely showed. Her dresses, with interesting cutouts and embellishments, were standout pieces in her lineup.
 Photos courtesy of the designers